New: EPS-DUAL 2.0 with DISPLAY
The more recent rear Electromagnetic Parking Sensor with display.
The new features of the parking sensor EPS-DUAL 2.0 with DISPLAY are:
- Approach to the obstacle with three different sound and LED alert signals: pre-alarm (green), warning (yellow) and the risk of contact (red).
- Adjustable sensitivity in 4 steps.
- Easier and faster installation.
Invisible and invulnerable
No longer are the visible round or oval sensors drilled into the bumper needed which spoil the lines of today's prestige cars. As the electronic control unit of EPS is very compact (less the size of a pack of cigarettes), it can be easily installed in the baggage compartment of the car. In addition, the sensor is absolutely invisible and cannot be damaged since it is installed inside the bumper.
A new technology parking sensor
Proxel offers an economic and very useful device for easy manoeuvring and parking preventing shocks that can cause unwanted damages to your car and those of others.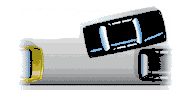 Proxel have pioneered in the market bringing a completely new system using a flexible metallic strip hidden INSIDE the bumper; from outside there is no visible sign that the parking sensor has been installed.
Useful in car garage
Reduces the risk of unwanted contacts due to distraction, poor visibility or lack of space in the parking lots in the city and inside the garages.