Electromagnetic rear parking sensor mod. EPS-MICRO PLUS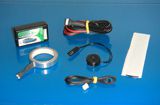 EPS-MICRO PLUS Kit rear parking sensor
The EPS-MICRO PLUS is the latest and most sophisticated version with an electronics controlled by a microprocessor.
When reverse gear is engaged the EPS-MICRO PLUS parking sensor system provides an instant, automatic, self-diagnostic function that maps out the surrounding area of your bumper constantly monitoring this as you reverse with 100% accuracy, providing you with 3 different audible tones (Zones) alerting you of your proximity in relation to surrounding objects!
Thanks to the peculiar electromagnetic technology, the reverse manoeuvre remains under the control of the driver until the last centimetre of the first contact and allows so to park even in very tight spaces.
The unit is located inside the luggage compartment, and the speaker (buzzer) as big as a 1 euro coin can be easily hidden on the side of the rear pillars.
---
These three types of alerts sound:
1
Bips with increasing frequency (alert signal)
EPS alerts you of presence and approach of the obstacles.
2
Continuous sound at high-frequency (alarm signal).
EPS informs that the obstacles is at a distance variable between 30 and 15 cm from the bumper.
3
Continuous sound low-frequency (risk of contact).
The bumper is 15-10 cm close the obstacle.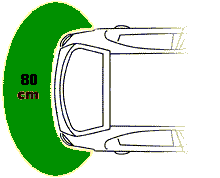 ---
Unlike the mod. EPS-MICRO the alarm signal is maintained indefinitely as long as you have the reverse gear inserted.
To better understand the difference between the model EPS MICRO PLUS and EPS-MICRO, look at the video below: