FAQs
- My car has a steel reinforcing bar inside the bumper; can it cause a malfunction of the system?
Any metal bar can only reduce the detection distance if it is close the antenna sensor (less than 2 cm).
- How long is the antenna sensor?
The antenna sensor is an adhesive tape 3.50 m long and 1 cm high.
- How can I apply the antenna sensor on an irregular bumper?
During the antenna sensor installation it is possible to make curves and fold the tape without compromising the working capability of the system.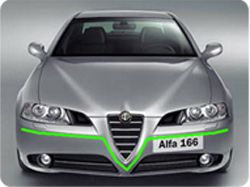 - To install the antenna sensor it is necessary to remove the bumper?
The antenna sensor must be applied to the inner surface of the bumper and then to install it you must dismantle the bumper.
- Can the EPS® system detect any type of obstacle or there are materials that cannot be detected?
The EPS® parking sensors are able to detect almost any kind of obstacle even with the most varied forms. The only material which can be less detected is the pure ceramic and glass if not containing contaminating particles.
- The towing hook can disturb the signal?
No because the system only detects objects approaching to the antenna sensor.
- The number plate can disturb or reduce the detection?
Even if you place the antenna sensor behind the number plate the working capability of the EPS® is absolutely not affected.
Being the number plate not electrically connected to the car body it is transparent to the electromagnetic field and so the system works perfectly also in this case.
- What are the advantages over ultrasonic backup sensors?
Invisible from the outside.
The parking sensor EPS® protects the bumpers on its entire length without discontinuity points.
Capability to approach the obstacle up to few centimetres while the ultrasonic backup sensor is unable to distinguish distances below 30 cm.
- It 's possible to cut the antenna sensor?
After you apply the sensor antenna the excess can be cut off.
- It 's a simple or you better have them mounted by a car garage?
To install the parking sensors EPS® the more work is the dismantling of the bumper. The electrical connections are very simple.
- It 's possible to mount the kit on cars with automatic gears?
Yes, there are no problems.
- I have a car with a bumper in fiberglass. The electromagnetic parking sensors will work equally?
Yes, it is important that it is not carbon fiber (Kevlar).
- Can I just install one single system for the front and rear.
No it is not possible. You must install two different kits: one for the front and one for the rear.